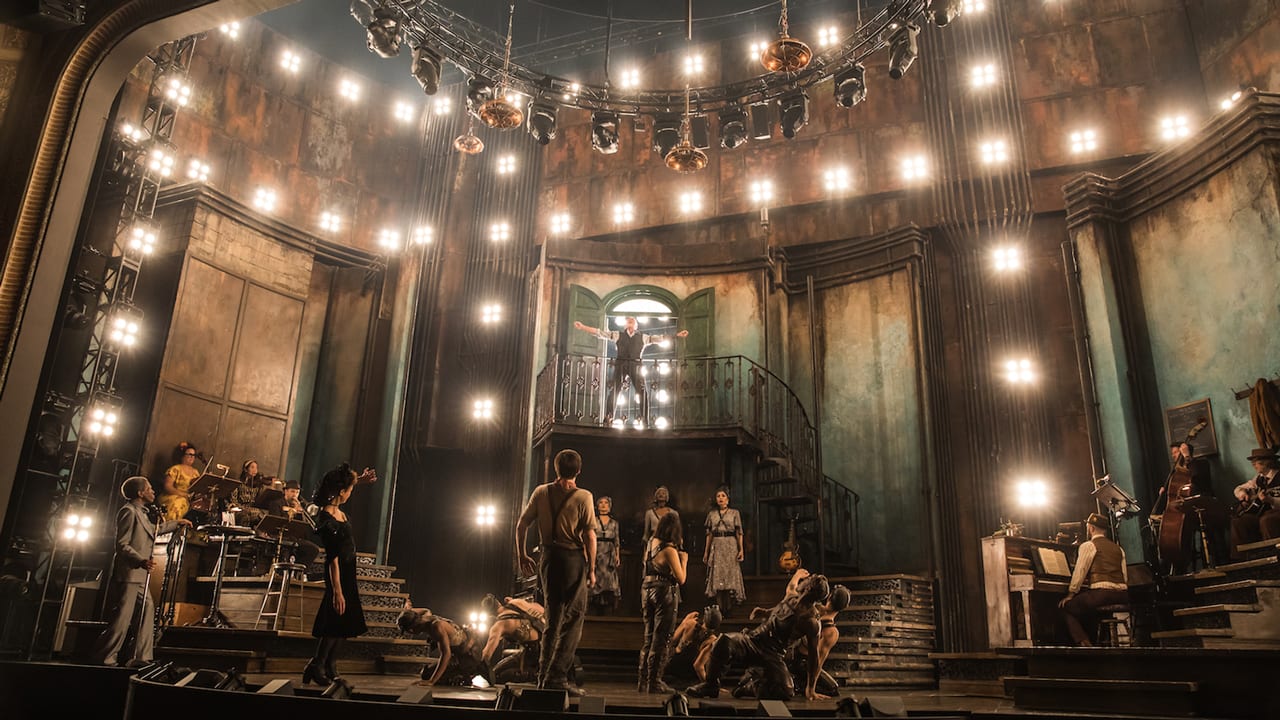 Here on Acid Jazz Hands- both this blog and my radio show- I try to look at musical theatre from a different angle. So it's fitting that I'm kicking off my review series by providing a hot take on Hadestown, the show that everyone couldn't get enough of this season. It won Best Musical at the Tonys, soaked up critical love, and has been consistently selling out at the box office since it arrived on Broadway in March 2019. In a season dominated by corporations endlessly churning out shows based on their most lucrative properties (like Tootsie, Beetlejuice, and the upcoming Mrs. Doubtfire), a show created by a folk singer-songwriter and helmed by a hip, visionary director seems like exactly the infusion of artsy cool Broadway needs right now, and its success has cheered those who worry about the industry's creative decline. The hype surrounding Hadestown has only continued to swell in the months since its Tony win, so when I sat down in my mezzanine seat at the Walter Kerr, I fully expected to be blown away.
And I was! But I was a little mystified, too.
As a production, Hadestown stuns. Most of the first act takes place in a simple train station bar, and when the story eventually moves underground to Hades, there's a startling shift as director Rachel Chavkin portrays the menace and terror of the underworld with just a few subtle shifts of Rachel Hauck's set and Bradley King's lighting design. Never before has a switch from yellow to orange stage lights been so chilling.
The performances are uniformly excellent. Eva Noblezada provides a lovely voice and an intriguing edge as heroine Eurydice. The great André De Shields (the original Wiz!) is a captivating, but sadly underused, Hermes. Kimberly Marable (understudy to Amber Gray) shines during Persephone's Act II solo "Our Lady of the Underground." Patrick Page's subterranean bass made a few audience members laugh when he first appeared, but by his second number they were hanging on every croak of that perfectly villainous voice. And I had expected, based on reviews and word of mouth, that Reeve Carney as Orpheus would be the weak link- but I was impressed by his powerful tenor and his choice to portray the hero as an awkward, possibly autistic young man rather than a typical hunk.
Where this show falls down, unfortunately, is in its lyrics. Creator Anaïs Mitchell is an outstanding composer, and the music itself often moved me, but I found the story difficult to follow despite the myth's familiarity. The lyrics were written in a folk-pop style, sacrificing clarity for poetry, that worked well on the original Hadestown concept album but doesn't hold up to the storytelling demands of a sung-through musical. The most glaring example of the story's lack of clarity happens early in Act I, when Eurydice suddenly and inexplicably goes from being irritated by Orpheus to discussing marriage with him. "You take me in your arms and suddenly there's sunlight all around me," she sings. "Everything bright and warm, and shining like it never did before." Rather than the lyrics showing us how they transitioned from strangers to wary acquaintances to lovers, they're simply telling us the two are in love now.
Later, things get even more confusing when Hades sings his showstopping "Why We Build the Wall." This song has received a lot of attention since the musical's premiere due to its unintentional timeliness; Mitchell wrote the song over a decade before an even more heinously evil man than Hades shut down the government to build a wall of his own. The song's prescience is startling and the image of Hades as a demagogue shouting into an old-fashioned microphone unsettling, but knowing that it was not originally a Trump reference makes me wonder what exactly this wall actually is. "The wall keeps out the enemy/And we build the wall to keep us free," Hades booms. But doesn't everyone who dies end up in Hades anyway? Who is he trying to keep out? I'm even a little confused by the show's title, as Hades (the place) is not portrayed as a town. It's just regular old Hades.
With all that said, I definitely recommend checking out Hadestown– the production is truly impressive and it's worth seeing for Page and De Shields alone. I'm glad that so many people see it as the artistic shot in the arm musical theatre has been waiting for- but for those like me who love theatre lyrics and worry over their decline, I'm afraid we'll have to wait a bit longer.